Southern Oregon, which alternates between (University, College, State College, and Normal School) claim to fame is the fact that it's located in Ashland, Oregon, the home of the Oregon Shakespeare Festival and probably the nicest place on Earth to spend 4 or 5 years. I would move back there in a second if I had the chance!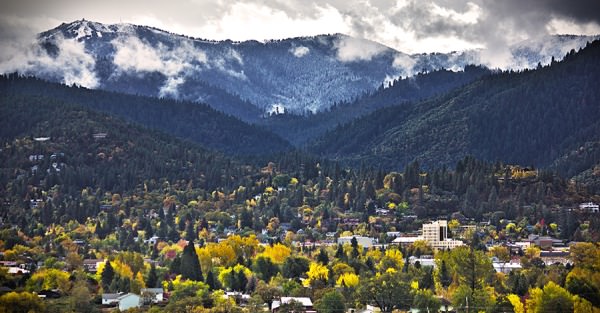 Ashland, Oregon - heaven on Earth!
Transitioning to college, at least for me, was easy. I didn't have to put up with Nazi High School administrators, I was smart enough to easily pass my classes without studying, and this was 1974 - the golden era for being "in college". Educators were interested in experimenting with our brains, so I decided to do a little experimenting of my own, just to help out :-) Lots of people go to college to be among their peers -the best and the brightest, to expand their horizons and look forward to life as an educated, enlightened, individual.
Some people go to college to ski, party and avoid military service.
That would be me!
Southern Oregon, at that time, was experimenting with the dorm system, they decided what a good idea it would be to put people of like interests in the same dorm to foment collaborative learning. What a good idea - put all the musicians in the same building! What do they do? Get a couple of kegs, a bag of weed and put Led Zeppelin on a giant stereo, created from components taken from everyone's stereo, run around on the lawn half naked and throw frisbees!. Yah-Ha!
We were young, thin, with boundless energy and enthusiasm. Heck, I spent 10 years in Redmond - kind of like a prison sentence. Now I was out, I was 18, and I was ready to roll. Fun? You bet! Heck, every winter quarter I took a) jazz band and b) skiing. Nice! It only lasted a couple of years, then I had to start studying and graduate, but what a fine 2 years! I also had a turn of great luck which has been a hallmark of my life - being in the right place at the right time.
30 years later - me, Dave S. Juan M. and Greg G.
My freshman year, I was sitting in jazz band barking away, and this hippie guy turns around and says "Hey, who are you?". He looked normal (well, normal to me, anyway) and I could tell he had local connections, which means weed when you're 18. He also appeared to be 21, which meant he could buy beer! He turned out to be Dave Salisbury, my lifelong friend who helped me by accepting me as a musician (well, they needed another horn, so there you go :-). Dave lived in a funky house in Talent, a little town a bout 10 miles north of Ashland on Highway 99. At that time "rural" would be a good description - it was right across the road from the farmer's market, where I was introduced to the staples of hippie life - string cheese, Dr. Bronner's chips, peppermint soap, fresh squeezed juice, brown rice, etc. His roommate was Juan Mojica, one of the best people I know. Dave played in a band with Greg Gavin, a hippie-type outfit named Boddhisatva, named after the Steely Dan song of the same name, and played Steely Dan type music, with a west coast hippie twinge. That first year, we hung out, played the local production of "Jesus Christ Superstar" and had a really swell time. We were jamming in Dave's garage one afternoon, right after his dog Shadow had a bunch of puppies.
Dave and Juan made a sign that said "Free Puppies" and put it out by the tree in the driveway. Naturally, someone at the farmer's market heard us, and came over to ask us if we were called Free Puppies, and would we play a benefit at the Ashland Community Center. My first gig! I remember watching hippies dance hippie style, which is great, and Dave handing me a tambourine on a jam tune called "Don't Let Your Meat Loaf". I started playing it, and he immediately took it away from me, and gave me a shaker, which has since become my rhythm instrument of choice. :-)