Me logging in Oregon. It wasn't for long, and I have all my fingers :-)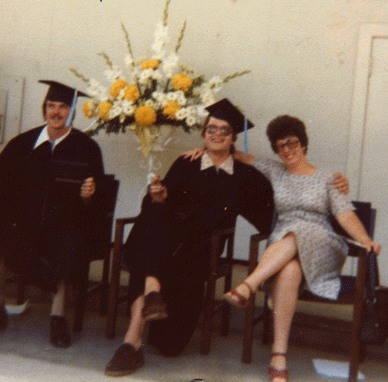 My pal Randy Skaggs, myself and my theory teacher, Fran Madachy at graduation. She and David Caffey were by far my best teachers in undergrad. school.
Needless to say, going to college from a small town, then suddenly being in a band that actually gigged regularly with a bunch of older musicians was about the best learning experience you could have. Lots of people ask me why didn't I transfer to a larger school after a couple of years? Easy - playing in the college jazz band or combo is a pretty weak preparation for the real world, and there was no guarantee I could get a sweeter setup than this. When you play gigs, you learn to make people happy, which is why they're out listening to music. You also learn how PA systems work, how to avoid feedback, how to talk into the microphone if you have to, how to write up a set list, and of course, how to play so people will like what you play :-)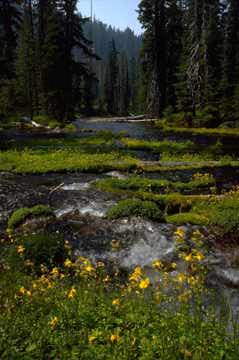 Boundary Springs, the headwaters of the Rogue River. Hike up the trail and enjoy some of my best work!
Summers I had to get a job, so I worked "in the woods" for a while - in Oregon, that means logging.
One summer of that and I said there has to be something better, and there sure was! The US Forest Service in Prospect, Oregon encompasses the district that includes Crater Lake, and man, it is really beautiful - especially in the summer! As a matter of fact, if you hike the boundary springs trail, to the headwaters of the Rogue River on the slopes of Mt. Mazama (Crater Lake), you'll be hiking on a trail built by myself and the men of Squad 17. We were supposed to be a district fire crew, but it rained all summer (Oregon is like that), so we spent the first part of the summer parked in our firetruck in a meadow on Mt. Hershberger, throwing frisbees, reading the paper and drinking chocolate milk, until finally the district ranger had enough of us and put us to work on the trail crew.
There's a big difference between destroying the beautiful forest for good money, and building a trail to one of the most beautiful places on Earth and playing in a great bar band on weekends. No, Southern Oregon University isn't a great school, but it's OK, and if you ask me, learning anything is a personal journey, not something you absorb from the walls - I will say if you get east of the Rockies, as I did later, you will be around MUCH better musicians, and that's when it can really pay off.
I took classes like "Weather" for my science credit - we called it "Weather or Not" and all of the musicians sat in the back and giggled. It was actually very cool, because I don't know jack about chemistry (other than how to mix a killer Mai Tai), but I can predict the weather quite accurately from a national weather service map.
Math? I took a class in computers, which is funny, because obviously, the whole concept of a personal computer was unheard of in 1977. But we had this big old thingamajig, and in that class I learned to write BASIC, which is very much like HTML - web pages (although the web was way in the future). Remember, I have always seemed to be in the right place at the right time...
I was sad to graduate - I loved Ashland, and now I was going to embark on a teaching career, because sadly, you can't make enough $ to live on as a trombone player in a bar band in Ashland to live on. I wish someone would have told me you can't make enough $ to live on as a music teacher in a public school, either, and I could have stayed in the Forest Service and made great $ and continued to play music.
But I had big plans - if I could get a chance, I knew I could make it in music. So off I went!